The Gospel Coalition released it's annual Book of the Year Awards today, and I was so pleased to see that my new book, Bully Pulpit, won Book of the Year for the ministry category.
The reviewers wrote: "Michael Kruger's Bully Pulpit confronts this widespread problem with the beauty and transforming power of the gospel . . . He succeeds in creating a work that will be a change agent in our time and should live well beyond it."
[UPDATE: I recently learned that Bully Pulpit was also one of the winners for the Midwestern Baptist Theological Seminary Book of the Year Awards, and a runner-up for the Southwestern Baptist Theological Seminary Book of the Year Awards.]
[UPDATE: Bully Pulpit was included on Tim Challies' "Best Books of 2022" List]
I am grateful for these kind and encouraging words. And I am also appreciative of other recent reviews of the book: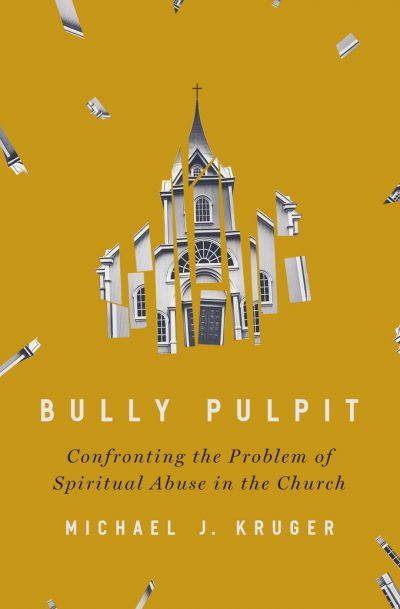 Tim Challies: "I appreciate his handling of a difficult subject, his precise defining of the term, and his care in distinguishing between behaviors that are abusive and behaviors that are not. I appreciate his analysis of why churches are prone to elevate leaders who exhibit abusive characteristics. I appreciate his kind but insistent calls to pastors and church leaders that they ensure they are measuring up to the biblical qualifications for those who would take leadership positions in churches and Christian organizations. Most of all, I appreciate that he took on the topic at all, for only by facing it and admitting it can we address it. It's my hope and prayer that Bully Pulpit is widely read so it can purify, bless, and strengthen the pulpit and, hence, the church."
Timothy Paul Jones: "Bully Pulpit provides a concise guide to the tactics that an abusive pastor may employ to evade accountability, as well as a compassionate presentation of the impact of spiritual abuse on victims . . . a deeply biblical vision for the proper function of authority among the people of God . . . an exceptional book that will serve churches well in years to come."
Wendy Alsup: "In this saturated market, Bully Pulpit offers something unique. Kruger speaks on spiritual abuse as a denominational leader in a conservative context—he's president and professor of New Testament at Reformed Theological Seminary's campus in Charlotte, North Carolina . . . Kruger offers concrete help for men who want to be pastors and churches seeking a pastor in his chapter on 'creating a culture that resists spiritual abuse' (111). He confronts our affinity for a leader who exhibits gifts of the Spirit over one who exhibits fruits of the Spirit."
Dan Doriani (via Facebook): "Highest commendation for biblical theological and pastoral excellence goes to Michael Kruger's book, Bully Pulpit: Confronting the Problem of Spiritual Abuse in the Church. It's short, clear, and features diagnosis, cure, and prevention. It also applies to abuse in other settings. Every church should have copies."
I also appreciate a number of kind comments from Andrew Wilson, Tom Schreiner, Bob Kellemen, and Brad Hambrick.
Let me also say that I have really enjoyed doing podcasts on the book. I've already done quite a few, but I should mention two of the most enjoyable have been with Collin Hansen for his Gospelbound Podcast, and Warren Cole Smith for World Magazine.
If you want to learn more about the book, and why I wrote it, check out my overview article here!